Are you looking to give your lawn a refresh and create a comfortable and beautiful backyard to spend your summer in? Check out some of the latest landscaping design trends to get inspiration for your dream backyard. Be the place that everyone wants to spend time at, and create the yard of your dreams this summer.
Top 2021 Landscaping Trends: Creating Functional Outdoor Space you Never Have to Leave!
With everyone still spending increased time at home, you want to have an outdoor space that can be a source of relaxation, entertainment, and joy as you enjoy the warmth and sunshine of the summer season. The biggest landscaping trends so far have included functional outdoor amenities such as gas fireplaces, natural fire pits, outdoor pools, growing gardens, and designing a flexible indoor-outdoor area that often includes a kitchen or outdoor theater.
Landscaping Trends: Growing Your Own Garden
The biggest trend this year is to create space that makes it enjoyable and comfortable to spend more time at home. A lot of people have invested in creating their own gardens, whether it be fruit, vegetable, or even herb. Growing your own food can make eating healthy fun, and everything tastes better when it is grown fresh right in your backyard! Another benefit to starting a garden is that you will save money and trips to the grocery store as you get to enjoy the fruit of your labor! Starting a garden also allows you to teach your children, and even yourself, about how your favorite foods are grown!
2021 Landscaping Trends: Flexible Indoor-Outdoor Space
Creating a space that seamlessly flows from inside your house to your backyard creates an ambiance of relaxation and nature vibes as you transition between indoors and outdoors. If you want your backyard to feel like an extension of your home, this is the perfect design trend for you to implement. You can achieve this look this summer by matching your patio furniture to the aesthetic of your indoor living space, adding an outdoor kitchen, and creating more areas of light and flow.
Design an Outdoor Fireplace or Fire Pit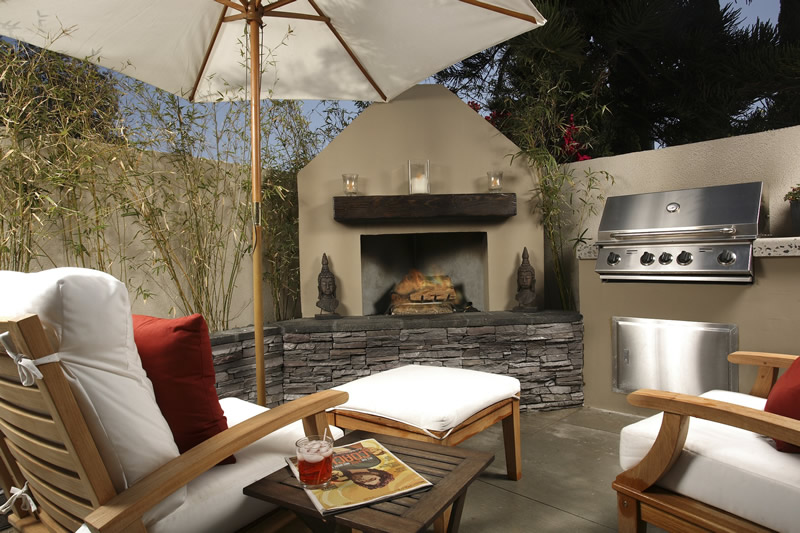 Another way to create an outdoor space you'll never want to leave is to design a fireplace or fire pit area for you and your family or friends to hang around every night. A natural fire pit is a classic way to add functionality to your backyard and make endless memories roasting marshmallows, telling scary stories, or enjoying a drink by the light of the fire. A gas fireplace is perfect and serene on those chilly summer nights so you can still enjoy the wonders of summer in the evenings.
Invest in a Backyard Pool
Pools are also hot this season as another way to provide functionality to your backyard and create a space you never want to leave. With everyone still staying home, bring the beach and vacation fun right to your backyard by investing in a new pool. Save money and stay safe this summer by bringing the fun to you! A pool is an investment you will use for decades to come as you enjoy the ease and comfort of being able to cool off on a hot summer day in your own backyard.
Hire a Professional Landscaper in 2021: Rasevic Companies
If you are ready to step into the outdoor space of your dreams and you are located in the Mid-Atlantic, hire a professional this summer like Rasevic Companies to turn your vision into reality. You deserve to have a backyard that makes you feel like you are on vacation every day. With their years of professional experience, expertise, and knowledge, Rasevic Companies is the perfect landscaping service to help you design a yard that exceeds all of your expectations. We service residential, commercial and government properties in Washington DC, Maryland, Virginia, and Delaware. Click here to check out the many services Rasevic has to offer or get a free quote for your project by filling out the quick form below.
Request Quote
"*" indicates required fields