Snow removal is one of the biggest challenges that commercial businesses and government agencies have to deal with in winter. If you hire a company that doesn't have the right professional snow removal equipment for every scenario, your property will be more open to risk and bad PR from dangerously slippery surfaces. Aside from proper snow management planning and hiring a reliable snow and ice management company, you should also consider the variety and quality of the equipment they use. Snow removal equipment plays a major role in ice management as well. When it comes to commercial snow plowing,, commercial trucks attached to plows are the very first thing that comes into our minds. However, it is not the only snow & ice management equipment available out there. You can find other equipment and trucks that help with snow relocation and snow removal. In addition, different equipment should be used for small walkways vs large parking lots. And all plows aren't the same either. From this article, we will provide an overview of different types of snow removal equipment available out there so you know what to ask when you are interviewing snow and ice management companies.
Snowplow Trucks
In the winter, this go-to equipment is often transformed into a snow-removal machine. In reality, one of the earliest and also most conventional forms of snow removal equipment is a truck equipped with a plow. To push, pull, and move stuff, trucks are already equipped with strong engines. A truck may be transformed into a superb piece of heavy gear for snow removal by adding a few attachments. When choosing a snow and ice management company, we recommend choosing one that has a large inventory of trucks (both pickup trucks and heavy-duty trucks). It's also helpful to SEE the trucks so you know if they look well maintained. Trucks that break down during a storm are going to hurt your business.
Snowplow Blade Options
The variety of snowplow blades on the market today is mind-boggling. They come with features that make snow plowing faster (like extensions or side wings) and they also come with features that make them less detrimental to the concrete (like trip blades). If you are hiring "Chuck in a Truck" don't expect anything fancier than a straight blade or maybe a v-blade. But if you are hiring a professional, they are likely to have a much larger inventory of blades to be used depending on the amount of snow falling and the area being cleared. For example, it's common to have box plows where large amounts of snow can be picked up all at once in large open areas like parking lots.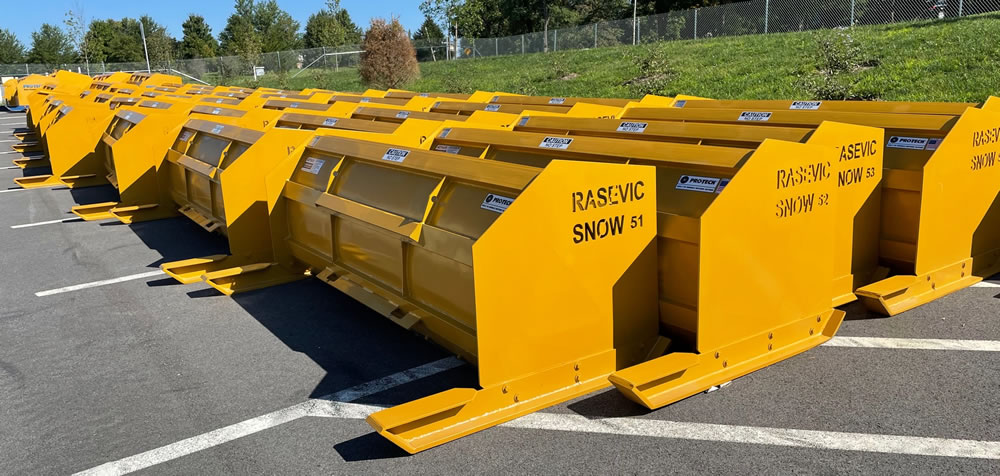 We recommend asking snow contractors about which blades they have and how many. You want to be sure they have the right amount and variety needed when the storms hit to accommodate ALL of their customers. A regular snow blade is the best tool for pushing, moving, and collecting snow. A bucket, on the other hand, is ideal for scooping and transporting. V blades come in a variety of shapes and sizes, including a V, a right or left angle, and a straight blade. When working in deep or hard-packed snow, the V-blade cut is useful for cutting an initial passage following a large snowfall.
Sidewalk & Small Area Snow Removal Equipment
Small tractors and UTVs are among the most versatile snow removal equipment available for smaller areas.  When compared to trucks, both reach more intricate areas like walkways and outdoor malls for careful snow removal. As a bonus, they are more fuel-efficient, making them more environmentally responsible. They also have a fast ground speed which allows them to clear surfaces quicker than shoveling or trying to clear small spaces with a snowblower or larger plow. Tractor attachments come in a broad range of sizes, so professional contractors can acquire just what you need to do the task.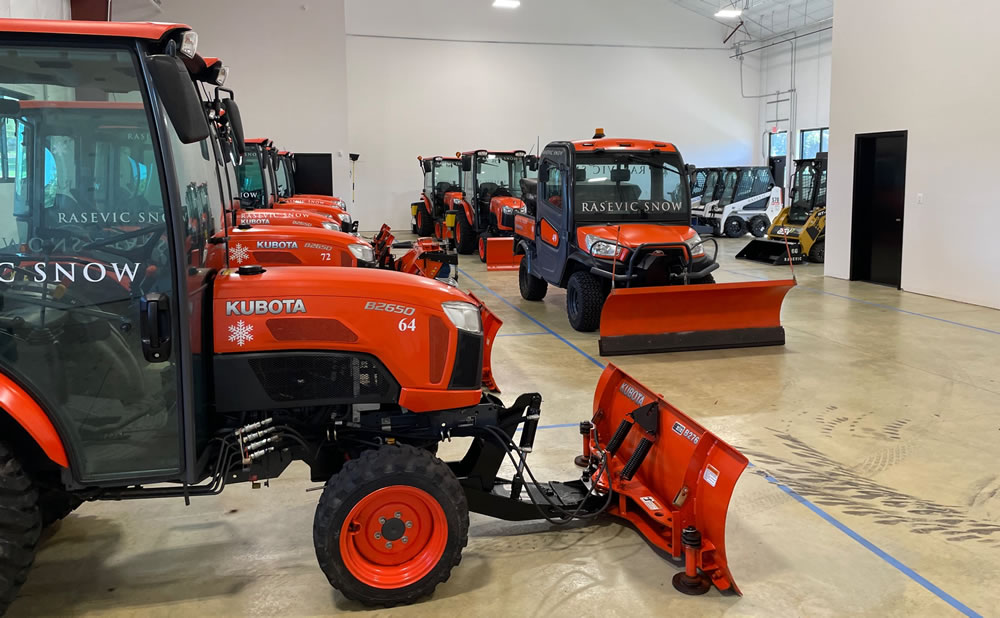 Tractors are effective snow removal machines that can assist with any task. Tractors are available on request in a range of sizes, making them one of the most cost-effective options for snow removal.
Snowblower and shovels
There are still times and areas that might require hand shoveling or snowblowers for proper snow removal. Even professional snow and ice management companies keep a crew that can do this type of snow removal for customers on occasion. There are just some areas where there is no other option. If it's a small area and the snow is light, shoveling can be the best option. If that same area has a heavy or wet snowfall, snowblowers are a good option for contractors to use for faster, less back-breaking snow removal.
Salting Equipment for Ice Management
A high-quality salter is essential in any professional snow contractor's inventory. After clearing a location, many snow clearing contracts stipulate that certain products be provided. The use of a salter attachment eliminates the need to complete this step by hand.
Depending on your needs, you may want to ask a snow contractor if they have hand salters, or attachments that go on trucks, UTVs, and/or heavy-duty trucks. These are all options that are nice to have available depending on your property. The biggest difference in these options is the capacity and size (which is vital to match the equipment to the size of the area being treated). When there is a need to clear snow from a parking lot, heavy-duty trucks will be useful. Therefore, anyone who is having a need can think about requesting them from a professional snow removal service.
Salters are available to add as truck accessories. Truck salter attachments are similar to those used on tractors and other machines. Finally, after clearing a site, this connection makes it simple to apply extra traction and snow-melting materials. They are mounted on the back of the equipment and there are many size options available.
Liquid Brine Sprayers
Brine sprayers are simply liquid versions of salters. They also attach to the back of trucks, but as the name suggests, they are tanks that spray anti-icing chemicals versus scattering salt pellets. It's smart to ask contractors if they have this equipment because there are times when pre-treating surfaces can make clean up after the storm infinitely quicker and easier. Liquid brine sprayers are used for this pre-treatment or de-icing chemical application.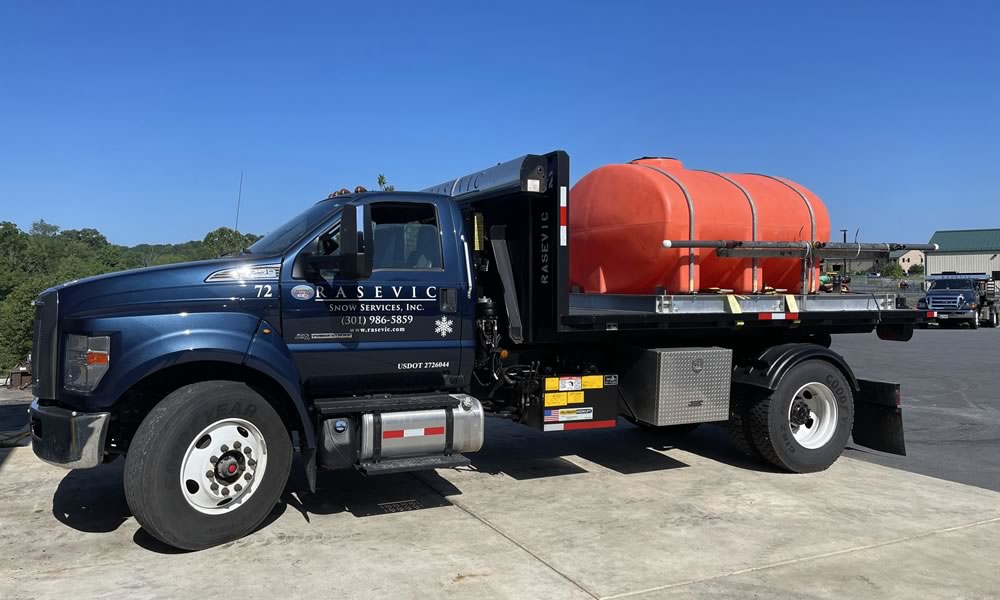 As a nice bonus, if your snow removal company has liquid brine equipment, and if you ever have the need for dust control services, they can help you there too. Spraying down liquid brine on dirt roads or parking lots can help keep the surfaces damp enough to reduce dust without creating mud. It also works to help harden surfaces.
Telehandlers or Heavy Duty Equipment for Snow Stacking
Telehandlers and heavy-duty front loaders aren't the first things that come to mind when thinking about snow removal equipment. However, in recent years, the industry has shifted toward adopting ways to be more efficient and these really do the trick when moving piles of snow. They are simple to use and effective in clearing snow from the ground, and the telescopic arms aid with snow stacking. They come in a variety of sizes and a smaller design option helps them to fit into narrower locations, and the telehandler's lifting capacity makes it a piece of strong equipment for moving heavy and wet snow.
Telehandlers and front loaders are forms of snow removal equipment that are both strong and efficient. They are the finest equipment for places that demand effective snow piling to optimize space. They both allow for correct stacking rather than shoving additional snow into the base of a mound.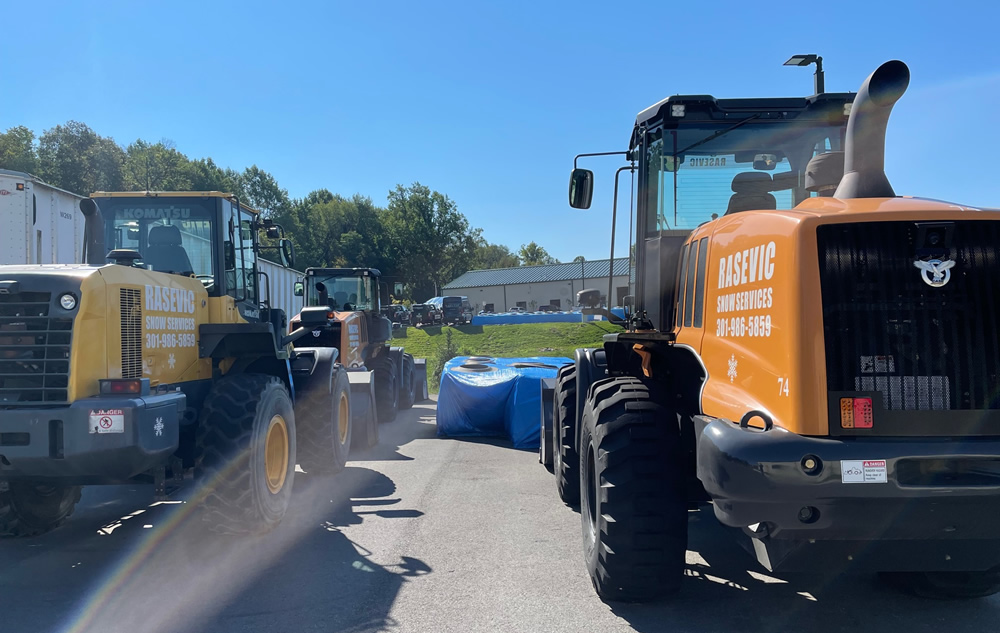 Skid Steers for Snow Removal
The last great piece of equipment we recommend asking about is skid steers. We could have grouped these with small tractors and UTVs, but they really stand on their own. Skid steers aren't usually just equipped with a plow, but normally a bucket loader is attached. This makes them a smaller version of a front loader and a useful workhorse that can assist in clearing even deep snow from confined spaces and sidewalks. They are versatile devices that come with wheels. Paved and asphalt surfaces are significantly more forgiving to wheels. In cold weather or while moving enormous amounts of snow or working on ice, they have higher traction. Tracked skid steers, on the other hand, are available and may be effective depending just on the terrain and kind of snow removal work. Heated and covered cabs will keep workers comfortable when operating while using a skid steer.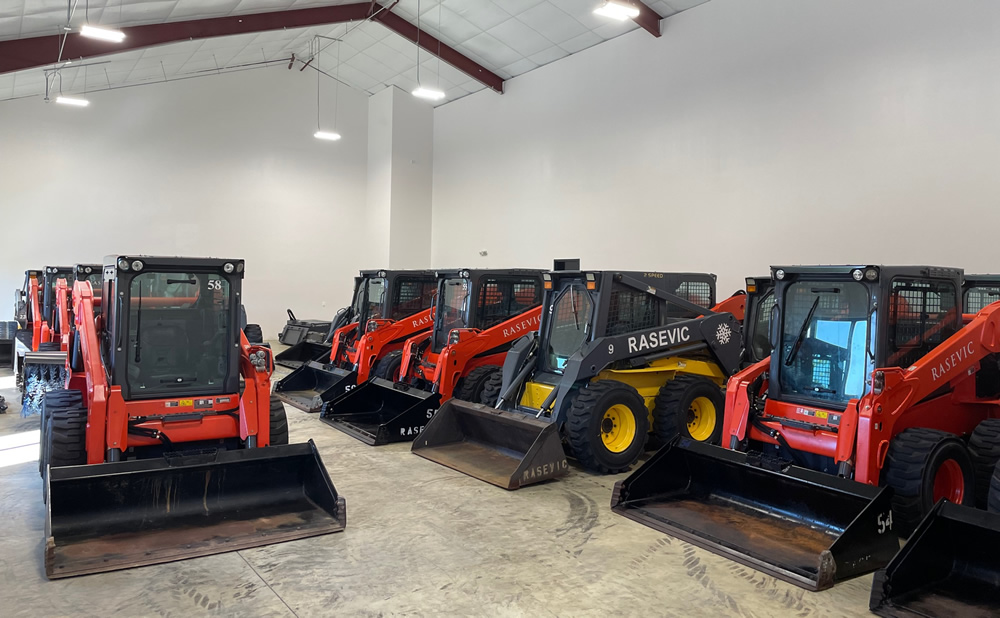 Having the correct tools for the work is critical to increasing efficiency. All locations on a snowfall route will be unique, much like in a building. Hiring a company with the greatest variety of snow clearing equipment may help your property appreciate quick and efficient snow removal. However, you must also get references and find out about their communication style, reliability and reputation.
If your property or properties are located in the Mid-Atlantic region in areas like Washington DC, Maryland, Virginia or Delaware, consider reaching out to Rasevic Companies. We are the region's leading provider of professional snow and ice management services.